Christmas Opening Hours

Addison Road Medical Practice
Monday 20th December
Doors 8 AM - 6:30 PM
Phoneline 8:30 AM - 6:30 PM
Tuesday 21th December
Doors 8 AM - 6:30 PM
Phoneline 8:30 AM - 6:30 PM
Wednesday 22nd December
Doors 8 AM - 6:30 PM
Phoneline 8:30 AM - 6:30 PM
Thursday 23rd December
Doors 8 AM - 6:30 PM
Phoneline 8:30 AM - 1 PM
Friday 24th December
(Christmas Eve)
Doors 8 AM - 1 PM & 2 PM - 6:30 PM
Phoneline 8:30 AM - 1 PM & 2 PM - 6:30 PM
Saturday 25th December
(Christmas Day)
CLOSED
Sunday 26th December
(Boxing Day)
CLOSED
Monday 27th December
(Bank Holiday)
CLOSED
Tuesday 28th December
(Bank Holiday)
CLOSED
Wednesday 29th December
Doors 8 AM - 6:30 PM
Phoneline 8:30 AM - 6:30 PM
Thursday 30th December
Doors 8 AM - 6:30 PM
Phoneline 8:30 AM - 1 PM
Friday 31st December
Doors 8 AM - 6:30 PM
Phoneline 8:30 AM - 6:30 PM
Saturday 1st January 2022
(New Years Day)
CLOSED
Sunday 2nd January 2022
CLOSED
Monday 3rd January 2022
CLOSED
Tuesday 4th January 2022
Doors 8 AM - 6:30 PM
Phoneline 8:30 AM - 6:30 PM
Out of Hours
Waltham Forest GP Enhanced Service
GP and Nurse appointments are available over the holidays.
Appointments can only be booked by calling 020 8519 3999
Telephone lines open:
Friday 24th December
(Christmas Eve)

12 PM - 8 PM
Saturday 25th December
(Christmas Day)
8 AM - 2 PM
Sunday 26th December
(Boxing Day)
8 AM - 4 PM
Monday 27th December -
Friday 31st December
12 PM - 8 PM
Saturday 1st January 2022
(New Years Day)
8 AM - 4 PM
Sunday 2nd January
8 AM - 6 PM
Monday 3rd January
8 AM - 4 PM
---
NHS111
If you are unsure and want some advice about what will be the most appropriate service to use.
This service is available 24/7 by phone or online at 111.nhs.uk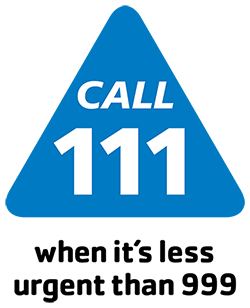 ---
Pharmacy
You can speak to your local pharmacist about minor ailments and they can advise you on available over the counter medications or products to help your condition. 
List of pharmacies open over Christmas and New Years
Pharmacies open over Christmas
Pharmacies open over New Years
---
A&E
Accident & Emergency are open 24/7 but this should only be used if urgent, life threatening, medical attention is needed.